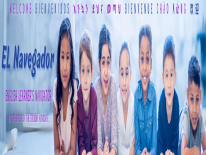 Welcome to EL Navegador!
English Learners' Navigator
by the Office of the Student Advocate
EL Navegador (English Learners' Navigator) is a tool for families and students of English Learners to learn about resources available in our District to support student learning and success. Throughout the site we will use the term English Learners (ELs) but you may see this group of students referred to using other language such as multilingual learners, developing multilinguals, or multi-language learners. If you need immediate assistance, contact our Request for Assistance Line at (202) 741-4692.
This site will be continuously updated with new resources and information. If there is information you think would be helpful to add to this site, whether it be from your own experience or work that your agency/organization is doing, please email [email protected].